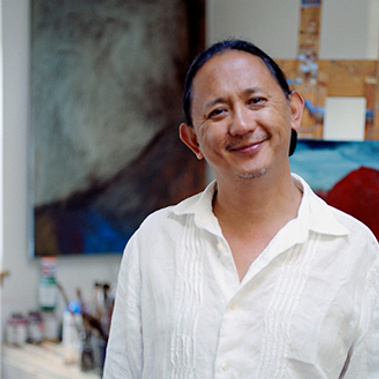 Biography
Dzigar Kongtrul Rinpoche, who paints under the name Kongtrul Jigme Namgyel, was born in the Northern Indian province of Himachel Pradesh into a Tibetan family, the son of Neten Chokling Rinpoche and Mayum Tsewang Paldun. Recognized as an incarnation of Jamgon Kongtrul Lodro Thaye, a great scholar and meditation master in 19th century Tibet, he grew up in a monastic environment and received extensive training in all aspects of Buddhist philosophy and practice.

In 1989 Mr. Namgyel moved to the United States with his family and in 1990 began a five-year tenure as a professor of Buddhist philosophy at the Naropa Institute. He founded Mangala Shri Bhuti at this time, an organization established with the vision of furthering the wisdom and practice of the Longchen Nyingtik, Khyentse, Kongtrul and Chokling lineages.
Mr. Namgyel travels widely throughout the world teaching and furthering his own education. Deeply interested in activities that express the natural state of mind for which all meditation aims, Mr. Namgyel admired the work of Kandinsky and Picasso in his first encounters with Western art. Trained in the traditional Tibetan arts of calligraphy, music and ritual dance, he began painting in the mid-1990's under the guidance of the French abstract expressionist painter Yahne Le Toumelin.

Out of all the Western traditions, abstract expressionism caught his attention due to its acceptance of formless technique, which closely mirrors the relaxation of strict discipline found in advanced meditation.
As a painter, I feel a personal connection to the work, and of course, paint for my own enjoyment and because painting helps me with my path. In that sense I enjoy living a 'dual' life - as a practitioner and an artist - dual, meaning that I derive great satisfaction from being a practitioner and having a form of artistic expression. My aim is for this to inspire and benefit others to have a dual life as well, to see the two, being an artist and being a practitioner, as inseparable.

Kongtrul Jigme Namgyel
Exhibition Catalogs

E Ma Ho!
Natural Vitality
Wide Eye
Exhibitions
2004 The Art of Kongtrul Jigme Namgyel, Cooper Union, New York, New York
2004 The Art of Kongtrul Jigme Namgyel, Xanadu Gallery, San Francisco, California
2005 Light Coming Through, Art & Julia's Gallery, Taipei, Taiwan
2007 Natural Vitality, Tibet House, New York City, New York
2007 The Art of Kongtrul Jigme Namgyel, Shambhala Center, San Francisco, California
2009 Abstract & Concrete, Shambhala Center, New York, New York
2012 India Paintings, Weiss Salon, Boulder, Colorado
2013 Art as Spiritual Practice, Shumei International Institute, Crestone, Colorado
2014 Wide Eye, Garrison Institute, Garrison, New York
2014 Wide Eye, Weiss Salon, Boulder, Colorado
2017 E Ma Ho!, Weiss Salon, Boulder, Colorado
2018 Buddhist Arts & Film Festival, Dairy Arts Center, Boulder, Colorado
2019 Creativity in Action, Naropa University, Boulder, Colorado
Join Mailing List
Sign up with your email address to receive news and updates.